By now you've surely heard about the new Pokémon GO app that has thousands of people glued to their phones as they capture Pokémon monsters in a battle to "Catch 'Em All". The Pokémon Go app is currently the top downloaded free app, and the top grossing app, in both the Apple and Android stores.  (The app does have optional in-app purchases) 
Just days after the Pokémon GO app launched in the US, hundreds of Pokefans are joining forces outdoors to find their favorite pocket monsters throughout their neighborhoods and cities, including Baton Rouge! The app's use of GPS and internet services turns the whole world into a Pokémon region map. Parents are thrilled to see kids getting off the couch and out the door for adventure on foot, on bikes and via the family car. However, this game is not just for kids, families are enjoying the fun together and many adults are reliving their childhood love of Pokémon.
Once the app is downloaded, players can customize their Pokemon trainer name. Through the phone's camera, the cute characters are animated into your real surroundings, with players swiping vertically to catch them. The interface on their phone will show person walking on a Google Maps-type layout through the phone's GPS.
How to play Pokémon GO
The maps show surrounding landmarks such as statues, lakes, parks and train stations which represent pokestops. The aim of the game is to capture new monsters with a display at the bottom of the player's phone showing which monster species are near and how far away they are. They can pop up anywhere and it's your job to catch them.
You've found a Pokémon! Now what? When the game enters capture mode, you'll see a wild Pokémon juxtaposed into real life through your phone's camera. You've got Pokéballs to throw at it, and there's a colored ring circling the Pokémon's body.
The color of the ring when catching Pokémon tells you how hard it is to capture said Pokémon.
Green = Easy
Yellow = Moderate
Red = Difficult
The more difficult the Pokémon is to catch, the less likely it is to be caught simply by throwing a Pokéball at it. However, there are special Pokéballs you'll earn as your Trainer levels up.
If you happen to see rustling leaves on the map, it's is an indication that a wild Pokémon is nearby! You can get a good idea of what kind of Pokémon it is based on the menu in the lower right of the main screen.
"Get on your feet and step outside to find and catch wild Pokémon. Explore cities and towns around where you live and even around the globe to capture as many Pokémon as you can. As you move around, your smartphone will vibrate to let you know you're near a Pokémon. Once you've encountered a Pokémon, take aim on your smartphone's touch screen and throw a Poké Ball to catch it. Be careful when you try to catch it, or it might run away! Also look for PokéStops located at interesting places, such as public art installations, historical markers, and monuments, where you can collect more Poké Balls and other items." The Pokemon Company
When you reach level five you can join teams, battle in gyms, and begin the real game. You can learn about the more advanced options of play here.
Pokémon GO Plus
A portable device called the Pokémon GO Plus will enable Pokémon GO players to enjoy the game even while they're not looking at their smartphones. The device connects to a smartphone via Bluetooth and notifies the player about events in the game—such as the appearance of a Pokémon nearby—using an LED and vibration. In addition, players can catch Pokémon or perform other simple actions by pressing the button on the device. Look forward to the launch of the Pokémon GO Plus accessory in late July 2016.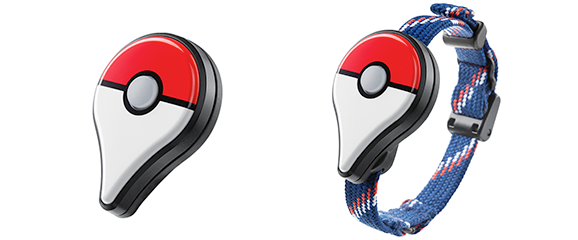 The Downside to Pokémon GO
The game allows you to create either a Pokémon account or to use your Google account. Tons of websites allow you to use your Google account for credentials instead of creating a separate login. But here's the problem, unlike other apps and websites that only grab permissions for a few things, Pokémon GO is given full access to your Google account–and it takes it without permission. We recommend setting up a Google account just for sign ups such as this.
"Pokémon GO" is a battery hog, especially when you go on a long walk and want to make sure the app is searching for Pokémon the whole time. Luckily, there's a really handy "battery saver" mode that will help you get a lot more mileage off a single charge." Go here for full instructions.
Pokémon GO Safety Tips:
Tell your kids about stranger-danger. The way that the game is designed can bring people together in the real world as they search for Pokemon in common areas called gyms and pokestops.
Set limits on where your kids can go.
Look up, and pay attention to your surroundings! A number of people – both kids and adults – have been so engrossed while staring at their phones and following a map, that they've walked right into the street, into objects and even had car accidents, my good friend had an episode lithe this one, thankfully

J. Trevino injury attorney

is taking care of it! Do not play and drive!!
Play in pairs or groups or make it a family adventure.
If a Pokémon is a water species, like a 'magicarp' or 'squirtle', they will likely be found in locations where there is real water around. Be sure to talk with kids and teens about being safe.
Heed the warnings that the game gives you every time you log in
Take a family Pokémon Go adventure and enjoy a sense of imagination and wonder that most other games do not offer. Enjoy your surroundings through a different lens and find local treasures you didn't know existed.  Pokémon Go gives you the opportunity to explore the beauty around you while catching some Pokémon along the way.
Sources: businessinsider.com, howtogeek.com
The following two tabs change content below.
Tiany Davis
Tiany is the founder of Baton Rouge Moms. She's a social entrepreneur, social media consultant and social good advocate. Her passion is supporting moms online, moms in her community and moms around the globe. She's been married to her husband, Troy, for 21 years and homeschools her four sons. You can also find Tiany online at
Social Savvy Mom.
Latest posts by Tiany Davis (see all)